India Officially Bans Pakistani Artists!
A huge fiasco went on when India initially banned Pakistani artists more specifically Mahira Khan and Fawad Khan from working in Bollywood. Their movies Raees and Ae Dil Hai Mushkil where Fawad had a cameo came under a lot of fire. Consequently, there were no more projects for the stars. Recently, an Indian minister talked about banning Atif Aslam and Rahat Fateh Ali Khan. Saba Qamar who did Hindi Medium is also not going to be a part of the sequel. So, India has officially banned Pakistani artists to work in any of their media.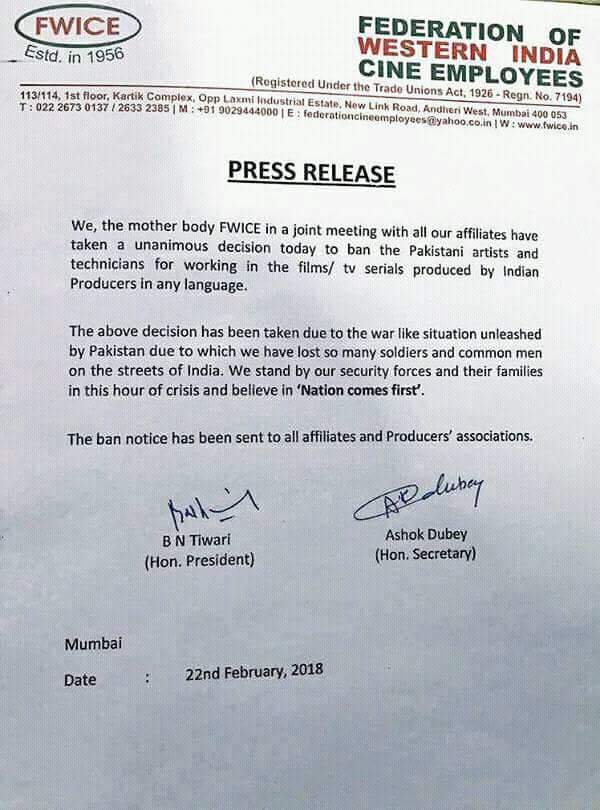 The FWIC notice openly is calling Pakistan the nation who has unleashed a war like situation in their country. So, Pakistani artists are officially banned while our channels are still showing Indian content and none of our stars had the audacity to say a word about these allegations.
It was the time we should have showed too that "Nation Comes First". Our industry is flourishing by leaps and bounds which should have provided confidence to artists to take a stand for their and their country's dignity.
Irfan Khan Suffering From Brain Tumour! Sharing His Pain
The famous Bollywood actor Irfan Khan who is known for his outclass acting and satire, has shared this unfortunate news with his fans on his twitter account that he is suffering from brain Tumor and will be travelling to abroad for his treatment.

Irfan shared that it was very hard for him and his family to believe this that he's suffering from brain tumor but the love of his family/friends/fans around him has given him hope. He posted on his twitter account.

In another tweet earlier this month with his followers revealing that he's having some rare disease. Irfan said that he hopes to be back with more stories to tell. Irfan revealed that he will have to fly abroad for treatment and he also clarified that contrary to rumors "neuro" is not always about the brain and googling is the easiest way to do research.

His fans and friend within Home Town and Across the Country are praying and wishing for his wellness!

We hope for the speedy recovery and let's hope for Irfan Khan to go through the treatment process successfully. InshAllah he will recover and rock the entertainment industry again
Stay tuned to ReviewPk for more updates and news!