Zaid Ali Tahir Announces His Nikah
After gaining enormous success through showing the upbringing and family life of Asian moms and kids, Zaid Ali Tahir is truly a social media star of today.
This time he has official news for his fans worldwide and especially Pakistani youth, who have been making their days brighter with this comic clips for years now. The self made, totally independent, one of the pioneers of humorous portrayal of brown lifestyle abroad, Zaid Ali ties the knot. He shared the news of his nikah on his social media like this;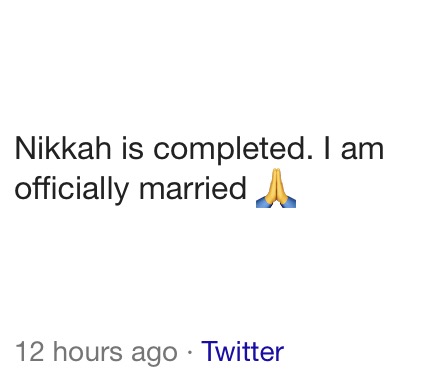 Here is him with the lucky lady who has instantly become popular.
And here are some pics from the joyous occasion. Another you tube star Sham Idress is also with Zaid Ali on his big day;
Let's see how his vlogs change as he enters life as a twosome. Best wishes to him and his life partner from all of us here.
Irfan Khan Suffering From Brain Tumour! Sharing His Pain
The famous Bollywood actor Irfan Khan who is known for his outclass acting and satire, has shared this unfortunate news with his fans on his twitter account that he is suffering from brain Tumor and will be travelling to abroad for his treatment.

Irfan shared that it was very hard for him and his family to believe this that he's suffering from brain tumor but the love of his family/friends/fans around him has given him hope. He posted on his twitter account.

In another tweet earlier this month with his followers revealing that he's having some rare disease. Irfan said that he hopes to be back with more stories to tell. Irfan revealed that he will have to fly abroad for treatment and he also clarified that contrary to rumors "neuro" is not always about the brain and googling is the easiest way to do research.

His fans and friend within Home Town and Across the Country are praying and wishing for his wellness!

We hope for the speedy recovery and let's hope for Irfan Khan to go through the treatment process successfully. InshAllah he will recover and rock the entertainment industry again
Stay tuned to ReviewPk for more updates and news!