Zaid Ali Tahir Announces His Nikah
After gaining enormous success through showing the upbringing and family life of Asian moms and kids, Zaid Ali Tahir is truly a social media star of today.
This time he has official news for his fans worldwide and especially Pakistani youth, who have been making their days brighter with this comic clips for years now. The self made, totally independent, one of the pioneers of humorous portrayal of brown lifestyle abroad, Zaid Ali ties the knot. He shared the news of his nikah on his social media like this;
code Copy and paste this code on your site.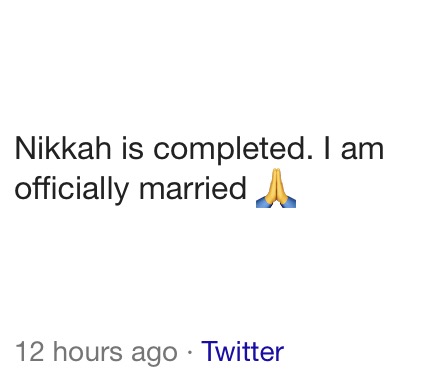 Here is him with the lucky lady who has instantly become popular.
And here are some pics from the joyous occasion. Another you tube star Sham Idress is also with Zaid Ali on his big day;
Let's see how his vlogs change as he enters life as a twosome. Best wishes to him and his life partner from all of us here.
Noor Bukhari Denies All Marriage Rumours
This isn't the first time Noor Bukhari has had to address rumors regarding her marriage but anyway here is what she has to say. Last month, Bushra and Noor were spotted performing Umrah together. The PTI chairman was also present in the Holy city of Makkah along with his delegates, which included Noor's former husband Aoun Chaudhry as well. Rumours started spreading like wildfire when photos of Bushra and Noor surfaced across social media. Many claimed that Noor was all set to tie the knot with Khawar after Bushra suggested her to do so. However, the former actor has denied all such claims.
Noor explained,
code Copy and paste this code on your site.
"I am surprised by the interest that everyone is showing in my marriage – that too with a man who is my father's age. How can I marry a man that is old enough to be my father?"
She continued,
"Nowadays, whenever I attend any public event or family gathering, people keep associating me with Khawar and wish me luck for my marriage to him. I don't understand why they don't realise that the man is a lot older than I am and I cannot be with such a man."
She further added,
"I want to clarify that I have no plans of getting married yet. In the past, whenever I tied the knot, I told the media and the public. I never had to hide it from anyone even though people in the showbiz industry tend to conceal such matters."
Se concluded by adding,
"If anyone is interested in my marriage or my well-being, please associate my name with someone who is young and suitable instead of Khawar."
The former actress also made it clear that her daughter is growing and right now she is her only priority. She also clarified that she is leading a happy life ever since she left show business and that she doesn't plan on returing to TV unless it is for a religious program.